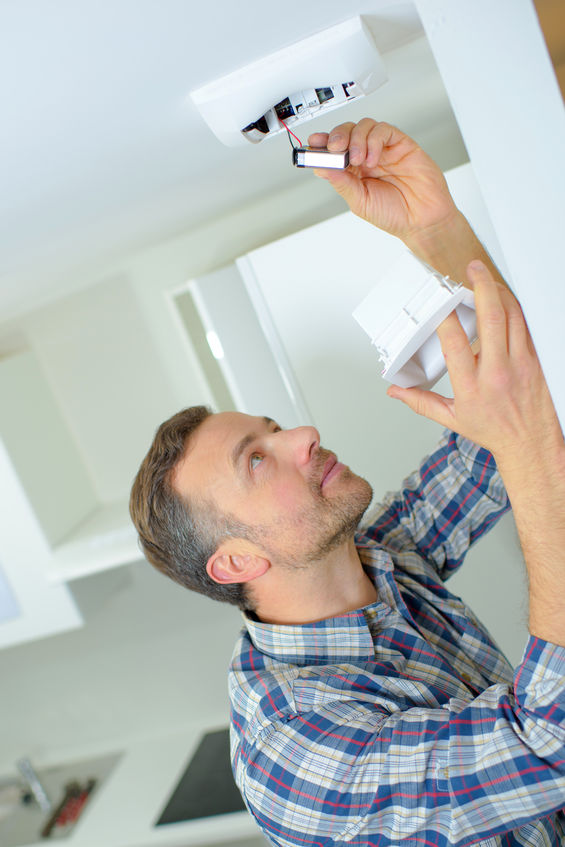 Preventative maintenance just makes sense. It's good for tenants and it's good for business. It helps protect your wallet from more costly expenses by keeping things in better working condition. It also helps you retain current tenants and attract new ones. Overall, it's a win-win scenario. But, what preventative maintenance and cleaning practices should take place every year and when should each project happen?
In this blog, we'll break down several practices to adopt and provide advice on when these jobs should get finished. We hope it helps you in keeping your property in top-notch shape.
Monthly
There are a few tasks that are actually best if done every month, whether this is something you do or the tenant is responsible for. Here are a few of the things to keep in mind:
Smoke and Carbon Monoxide alarms should be tested.
Fire Extinguishers should be checked for any damage.
The garbage disposal should be cleaned: "Sprinkle a half-cup of baking soda into the opening of the garbage disposal. Pour in a cup of white vinegar and allow to sit for 1- minute. Turn on the garbage disposal and allow hot water to rinse away the baking soda. As an alternative to baking soda and vinegar, use chopped citrus peels."
Most air filters for HVACs should be replaced every three months: Check the manufacturer's label for specifics.
Seasonally
Some of these items can be done between seasons to reduce how often you need to visit the property.
Fall
Inspect the HVAC System: The HVAC system should be inspected at the beginning of fall. This can even be done near the end of summer.
Insulate pipes: Before it gets too cold, it's a good idea to insulate pipes if needed. We also advise providing tenants with some tips on how to spot frozen pipes.
Service the water heater: This is a good time to have a professional come out to service the water heater.
Check for leaks: While on the property make sure to look it over for any leaks. Check around faucets, appliances, showers, and toilets.
Check windows and doors: Check by windows and doors to see if there is moisture residue. You may need to reseal windows before winter comes in full force. Check the doors and windows to see how the seals look.
Examine the property for any small entryways: These could allow rodents and bugs to easily access the interior of the property, so you want to catch them early so you can plug them up.
Take a look at the exterior: Does any of the paint need to be updated? Does any of the siding need to be replaced?
Check the roof: Make sure it's in good condition and there aren't any signs of damage.
Check Chimneys and fireplaces: Chimneys and fireplaces should also be inspected during this time.
Clean the gutters: In late fall, the gutters should be cleaned before the first snowfall hits.
Winterize any outdoor faucets and hookups.
Prune trees and bushes: This is the ideal season to do some pruning. Trees should also be inspected to see if there are any dying trees or dead branches (before winter hits with a snow or ice storm).
Turn off the sprinkler.
Close up the pool.
Winter
Cover the AC unit: Before you get deep into winter, we recommend putting a cover over the AC unit.
Inspect the roof as needed: While you'll probably have the roof inspected during the fall, you may want to consider sending someone over to inspect the roof if there's a bad storm during this season.
Clean fridge and freezer coils: This is a good time to clean refrigerator and freezer coils (if this isn't something you handle, it's a good idea to remind tenants to handle the task, especially if you provide the appliance).
Spring
Do a roof inspection and clean the gutters: This is a great time to have the roof inspected again to make sure it didn't take any damage after the previous seasons. Check for any signs of leaks as well. In addition to checking the roof, the gutters should be cleaned out again.
Powerwash: The siding, windows, patio, and sidewalks can use a power washing this season to help remove any of the residue from fall and winter.
Check windows to see if any screens need to be replaced.
Check for leaks and if any new caulking is required: Inspect the house to see if any leaks have started around sinks, showers, and toliets. See how the seals look and if anything needs new caulking. Check the windows and the doors to see if any new caulking is needed here as well.
Check window and door locks: Make sure all are in working order.
Flush the water heater and service the HVAC system.
Fertilize the lawn and turn back on the sprinkler system.
Tackle remodel and renovation projects: This is a great season for tackling any of the projects you've been putting off.
Summer
Clean the dryer vent and exhaust fan: This is a good time to clean out the dryer vent (this should be done at least once a year). In addition, this is an ideal time to clean the exhaust fan in the kitchen.
Reseal grout: If any grout needs to be resealed, spring or summer is a good time to do this.
Check that the thermostat is working well.
Do attic and basement inspections: This is a good time to do any attic and basement inspections to ensure there is good ventilation in both areas (also to check for potential roof leaks in the attic or structural damage).
We hope this breakdown helps you as you plan your maintenance schedule for the year. If you'd like any help managing and maintaining your property, please reach out to us at PMI.