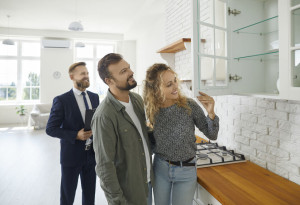 Before you even show the property, you have to market it. You need to let people know it's available to rent and show them why they should check it out. You want to highlight the best features, show off the property with high-quality photos, and motivate prospective tenants to want to take the next step. However, the marketing will only get you so far; the showing is what will ultimately help motivate their final decision.
Update and Clean the Property
You'll want to prepare your property for the showing. Take time to make any necessary updates (before the marketing photos). A fresh coat of paint and new flooring can do wonders! You'll also want to ensure the property is clean from top to bottom.
Make Showings Easy
Make showings easy for prospective tenants too. If it's difficult for a prospective tenant to get a hold of you, they may just decide it's not the right fit without even looking at the property. One of the ways to make this process simple is to offer the option for them to see the property on their own. There are ways to set this up safely and simply. In fact, it's something we offer to our clients. Even if you're not going to be available at the showing, you want to ensure that someone is available if anyone has questions. So, make sure they have a point of contact that they can easily reach. This will help the process go faster and smoother.
Provide Flyers with Additional Information
At the showing, it's a good idea to have some information about the property and the local area. You can print flyers. You may even find it's something you can send out as a digital flyer if you have the prospective tenant's email address. This will allow you to further highlight the property. It's not a necessary item, but it can help your rental stand out from competing properties. What do you highlight in this? Well, you can go over the amenities in the apartment and the shared areas. You can also talk about what is in the local area. Many people who move from out of town may wonder what this town/city has to offer. By listing some of the community's features, it can help the prospective tenants picture themselves moving there.
What types of things should you highlight about the area? Consider who your target audience is and what types of establishments people usually frequent as well as what makes your area special.
Gyms/Fitness Centers: Health is a hot topic. Many people like to have gyms/fitness centers nearby, whether you have the amenity in your apartment community or there's a gym right down the street. Highlight the local fitness centers in the area. You may even want to let prospective tenants know how close they are. Spelling out convenience is always a good idea.
Grocery Stores: Everyone needs groceries. Whether your prospective tenants order their groceries online for pickup/delivery or they go in-store, it's good for them to know what grocery stores are in the surrounding area.
Restaurants/Cafes/Bars: Prospective tenants will want to know the best places to eat in the area. Try to highlight some of the top picks for them.
Convenience Stores/Gas Stations: If prospective tenants know where to stop in for something quick and pump their gas, it can be helpful, especially if it's right down the road from them.
Specialty Shops: List some of the specialty shops in the area that they might not find somewhere else. Consider what stores are extra special and well-loved by current locals.
Pharmacies: Sometimes you just need to go to a pharmacy. It's one of those life musts, so make sure to include a list of local ones.
Entertainment: Here's your chance to highlight some of the entertaining things to do in the area to help prospective tenants picture themselves living in the area.
Playgrounds: Families with small kids will want to know where the closest playground is located.
While providing a flyer with extra information isn't a necessary thing, it can help better sell the area if you're looking to further motivate potential tenants to sign the dotted line. These are just a few of the potential community amenities you could mention as you think carefully about what prospective tenants would desire. Also take note, if you don't provide the flyer, it's a good idea to at least be very familiar with the area in case anyone asks about local grocery stores, restaurants, etc.
Ask the Right Questions
Another thing to keep in mind when handling rental showings is that this is a good opportunity to ask the prospective tenant questions. It's kind of like a pre-screening before the tenant applies. You may want to ask them why they're looking for a new place when they're hoping to move if they smoke or own pets, who all would be living on the property, and if they'd consent to a credit check. These are things you could ask over the phone prior to the showing or, if you're showing the property in person, you could do so during the showing. Just remember that you should ask every tenant the same set of questions so everyone is treated equally.
When it finally comes down to signing the lease, make sure to go through it with the tenant, highlighting the important details and anything for which you and your tenant are responsible.
If you'd like help marketing your property, showing it, and finding the right tenants, please reach out to us at PMI. We provide trusted property management services.