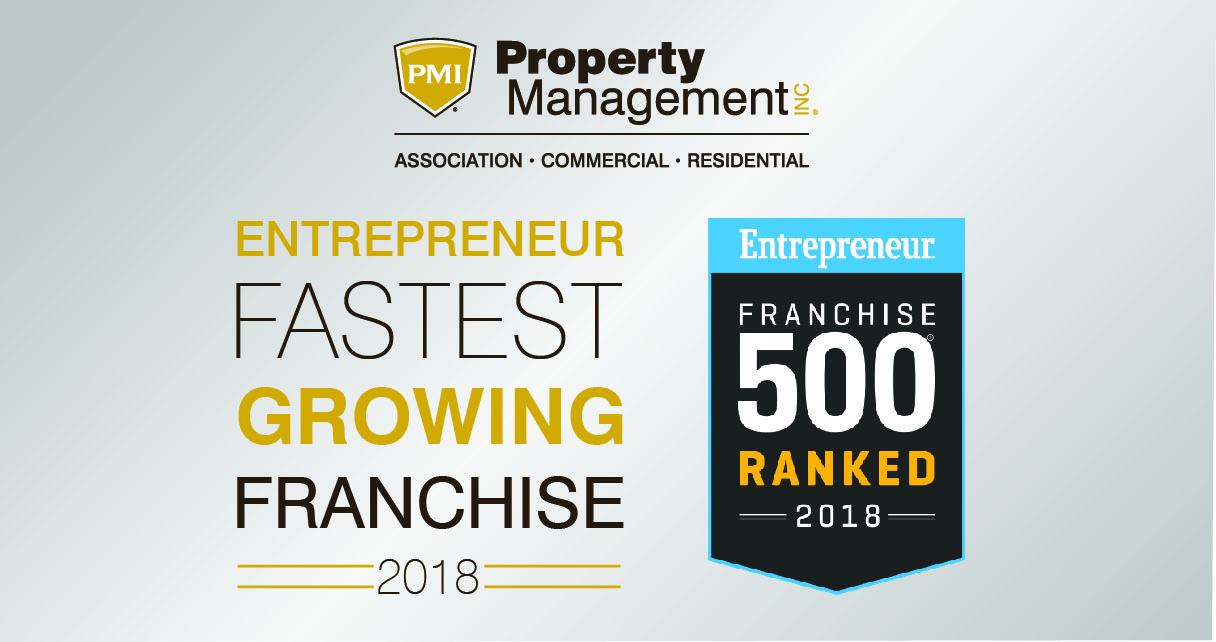 LEHI, Utah, Feb. 28, 2018– Entrepreneur magazine ranked Property Management Inc. (PMI) as the #1 Property Management franchise on their 2018 Fastest-Growing Franchise Ranking. The Fastest-Growing Franchise ranking was published in the magazine's March 2018 issue and is available online. This highly competitive list ranked businesses by franchise unit growth in North America.
The highest ranked, and only, property management franchise on the list, PMI was listed as #55 overall out of 150 businesses. These businesses were chosen from data submitted for Entrepreneur's yearly Franchise 500 ranking and selected based on the number of new franchise units added from July 2016 to July 2017, with percentage growth as a tiebreaker. PMI was also the highest placing Property Management franchise on the 2018 Franchise 500, which measures a broader range of factors like brand power, stability and financial strength, coming in at #152 overall, its highest ranking after placing on the list annually since 2015.
PMI has placed as one of Entrepreneur's Fastest-Growing Franchises twice before, #74 in 2017 and #90 in 2015. PMI was also selected Franchise Gator Top 100 Franchise for the second year in a row. "PMI's goal above anything else is to create business growth and success for our franchisees," said Randall Henderson, PMI's Executive Director of Training. "We've become the fastest-growing property management franchise because we provide with the best property management tools, systems and support to our franchise owners."
Adding a vacation rental program to its residential, commercial and association property management programs, PMI is poised to experience further growth in 2018 and beyond. Owner of PMI Nevada, Jason Evanchak, predicts PMI may expand to "Two, three, or even four times the size" by 2020.
About Property Management Inc.
Property Management Inc. is a property management and real estate services company providing leading-edge technology, training, systems and support to more than 200 franchises. The PMI network manages more than $5 billion in assets globally and is recognized as a leading property management franchise. Its innovative franchise program provides the only platform that unifies the four pillars of property management: residential, commercial, association, and vacation. PMI is currently named on the Inc. 5000, Entrepreneur's Franchise 500 list as "Best in Category" winner for 2017 and 2018. Additionally, PMI is ranked as one of the Top 100 Global Franchises in 2017 by Franchise Direct.