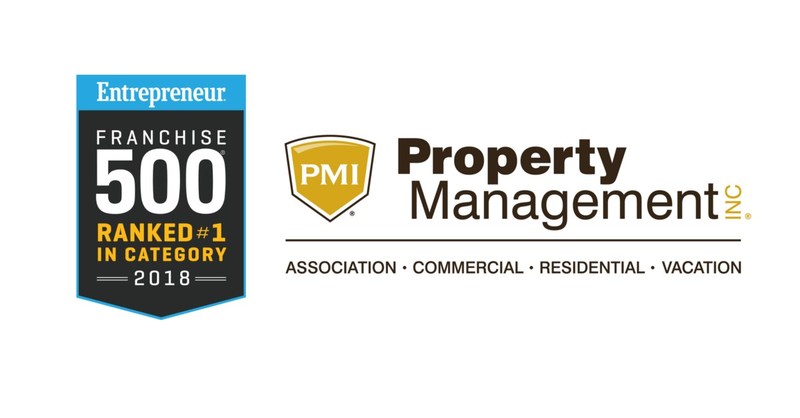 LEHI, Utah, Feb. 12, 2018 /PRNewswire/ — Entrepreneur magazine recently named Property Management Inc. (PMI) as the #1 property management company on their annual Franchise 500 for the second year in a row. The Franchise 500 is the most comprehensive ranking of franchises with outstanding performance in areas including unit growth, financial strength and stability and brand power. PMI first appeared on the Franchise 500 in 2015 and has consistently improved its ranking every year.
Steve Hart, President of PMI, has been with the corporation since it began in 2008 and said, "When I look at PMI's success today, I can't help but credit our franchise owners who believed in the vision, joined the team and work hard to make PMI what it is today — the most trusted name in property management." The PMI franchise model is based on the providing the best tools, systems, strategies, and support toward the goal of business growth for its franchise owners. "We are the only property management franchise to provide a platform with the ability to manage properties in all four property classes, residential, commercial, association and vacation rental," says Hart. He believes giving franchise owners options for their business means more options for their business growth.
This year PMI ranked #152 on the Franchise 500, but in 2015 the company barely made the list at #486, still an accomplishment nonetheless. The following year PMI moved up to #302 and in 2017 was named for the first time as the #1 property management company with a ranking of #288. As evidenced by the success of the franchise as a whole, PMI is set to become a household name and is a wise choice for those looking to invest in a franchise. To many, the real estate industry may seem unpredictable, but as PMI has shown, professional property management is stable and wide open for growth.
About Property Management Inc.
Property Management Inc. is a property management and real estate services company providing leading-edge technology, training, systems and support to more than 200 franchises. The PMI network manages more than $5 billion in assets globally and is recognized as a leading property management franchise. Its innovative franchise program provides the only platform that unifies the four pillars of property management: residential, commercial, association, and vacation. PMI is currently named on the Inc. 5000, Entrepreneur's Franchise 500 list as "Best in Category" winner for 2017 and 2018. Additionally, PMI is ranked as one of the Top 100 Global Franchises in 2017 by Franchise Direct. For more information, please visit www.propertymanagementinc.com.